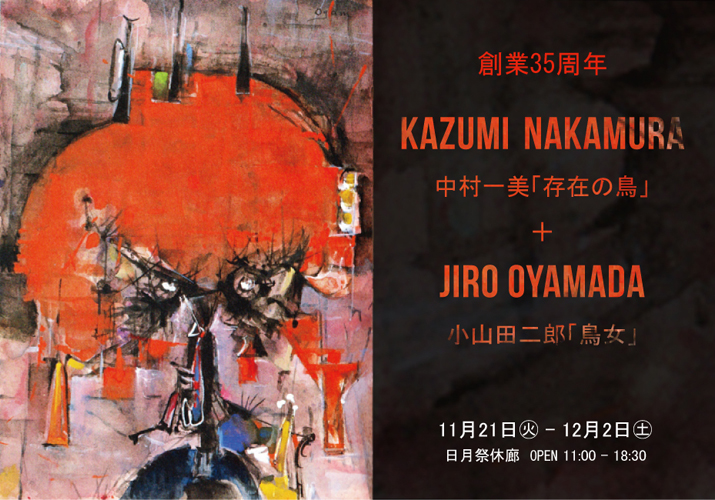 【Exhibition】

創業35周年 池田龍雄コレクション展を開催いたします。近年欧米からも関心を寄せられる池田龍雄。1950年代'60年代に制作された貴重なペン画と油彩画を展示し、氏の画業の前期にスポットを当てます。

For our 35th year of business, we are pleased to present "The Tatsuo Ikeda Collections Exhibition." We will turn the spotlight on the early stage of Ikeda's works by exhibiting his valuable pen paintings and oil paintings from the 1950's and 1960's, which have gained him popularity in Western countries recently.

会期:11.4 sat - 11.17 fri
時間: 11:00 - 18:30
MORE >

【Exhibition】

創業35周年 中村一美「存在の鳥」+小山田二郎「鳥女」を開催いたします。
小山田二郎の代表的モチーフであり、繰り返し描かれた「鳥女」と、中村一美が2005年から2013年に集中的に描いた「存在の鳥」を展示する異色展です。For our 35th year of business – also, we are going to hold The Kazumi Nakamura "As a Bird" + Jiro Oyamada"Bird Woman" Exhibition. This is a unique exhibition showcasing the works by Jiro Oyamada, who painted "Bird Women" repeatedly as his representative motif, and "As a Bird" which is a theme Kazumi Nakamura painted intensively from 2005 through 2013.
会期:11.21 tue - 12.2 sat
時間: 11:00 - 18:30
MORE >

【Exhibition】

彫刻家、中里勇太が「THEドラえもん展」に参加、新作を発表します。是非ご高覧賜りますようご案内申し上げます。

会期 : 11.1 wed - 2018.1.8 mon
会場 : 森アーツセンターギャラリー 他、巡回予定
展示作家 :中里勇太、奈良美智、村上隆、会田誠、蜷川実花 他
The sculptor, Yuta Nakasato, is going to present his new work at "The Doraemon Exhibition." We would like you to come and view his work at the venue. This exhibition will also tour to several locations.
Venue: Mori Arts Center Galley
Date: Wed Nov. 1, 2017 – Mon Jan. 8, 2018
Exhibiting: Yuta Nakasato, Yoshitomo Nara, Takashi Murakami, Makoto Aida, Mika Ninagawa and others.