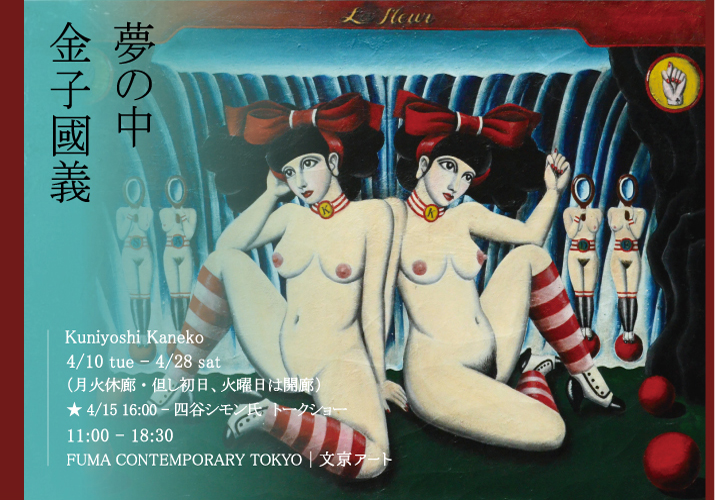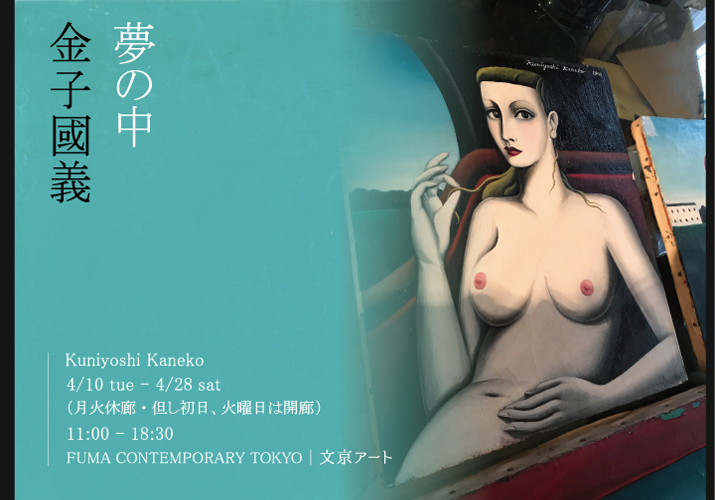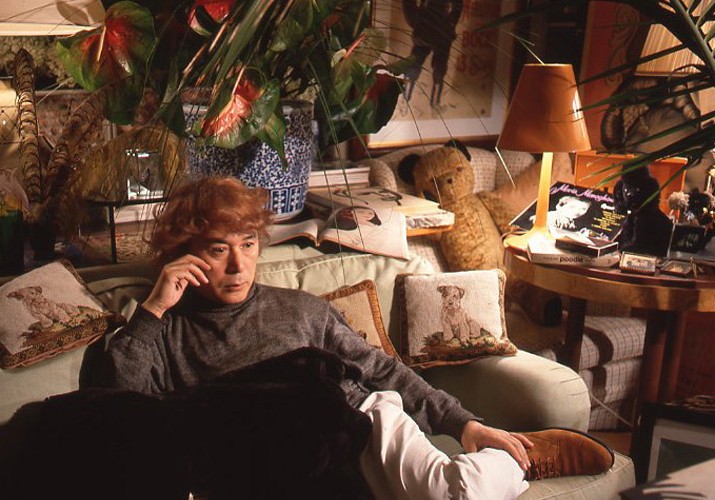 【金子國義 展 】

フマコンテンポラリートーキョー|文京アート は「金子國義 夢の中」を開催いたします。
FUMA Contemporary Tokyo | BUNKYO ART is going to hold The Kuniyoshi Kaneko Exhibition from Apl 10 to Apl 28.

会期: 4/10 tue - 4/28sat
月・火休廊(ただし初日火曜日は開廊)

We are closed on Mondays and Tuesdays during the exhibition except on Tuesday, April 10.



MORE >

【 金子國義 トークショーのご案内 】

■ 4/15 sun 16:00 -
四谷シモン氏によるトークショー「あの頃」を行います。金子氏のデビュー当時の貴重なお話しを伺います。
聞き手:金子修 参加費:¥1000

お申込みはメール fuma.con@gmail.com
または、03-6280-3717 まで。
We will display some works by Shimon Yotsuya, with whom Kuniyoshi Kaneko had a friendship of long standing. There will also be a special event "The Shimon's Talk Show," which starts at 4 p.m. on Apl 15 (admission fee 1,000 yen, you may reserve attendance by email to fuma.con@gmail.com).
MORE >

【Exhibition】

彫刻家、中里勇太が「THEドラえもん展」に参加、新作を発表します。是非ご高覧賜りますようご案内申し上げます。

会期 : 3.16 fri - 5.6 sun
会場 : 高岡市美術館 巡回予定
展示作家 :中里勇太、奈良美智、村上隆、会田誠、蜷川実花 他
The sculptor, Yuta Nakasato, is going to present his new work at "The Doraemon Exhibition." We would like you to come and view his work at the venue. This exhibition will also tour to several locations.
Venue: Takaoka Art Museum
Date: Fri Mar.16 – Sun May. 6
Exhibiting: Yuta Nakasato, Yoshitomo Nara, Takashi Murakami, Makoto Aida, Mika Ninagawa and others.